SiteWizard™
Cable and Antenna Analyzer
Site engineers and technicians have been using sweep testers also known as cable and antenna analyzers to validate installations or to find trouble locations and imperfections in wireless sites. Sweep tester or Cable and Antenna analyzer is a simple kind of Vector Network Analyzer focusing on measuring VSWR, return loss, distance-to-fault and cable loss. However, due to the nature of this particular mission, conventional Cable and Antenna Analyzers have been experiencing several failing points either due to common mistakes such as reverse RF power or the typical accidents inherent to using a quite fragile instrument in a tough environment. Such problems besides over-priced maintenance and repair costs of their sweep testers are pushing some companies to look for other price affordable approaches such as refurbished or used Cable and Antenna Analyzers to maximize their ROI. Moreover, some users go for low-cost line sweep testers which lacks the features and the adequate accuracy to qualify professional services. Besides, the reporting and office work implied in such tasks made it true that site engineers spend almost 70% of their working hours at the office. The fact that reduced the efficiency of companies due to wasting times of their most valuable assets. To become a site master, site engineer should be given a tool that optimizes how to spend his time getting testing done at maximum ease and convenience while reports are created in a professional yet efficient way.
The SiteWizard™ MTM-427 Cable and Antenna Analyzer is primarily addressing the need for a tool that is engineered for field use and taking into consideration the different use-cases and conditions associated with this mission; I.E A Cable and Antenna Analyzer that is durable and convenient. Here, durability means maximum RF protection, and ruggedized construction, while convenience involves ease of use, intuitive user interface, flexible test accessibility, and the compactness that serves even the most difficult test points. Maintaining the same performance and accuracy of conventional larger Cable and Antenna Analyzers, the SiteWizard™ MTM-427 Handheld Cable and Antenna Analyzer considers the practical user needs for a heavy-duty and handy tool with maximum reliability against frequent and typical field accidents and faults.
The highly compact size and robust casing of the SiteWizard™ MTM-427 Cable and Antenna Analyzer paves the way for testing scenarios that have been hard to realize before. Furthermore, it allows testing without a need for the additional launch cable (phase stable cable) in some cases. State-of-the-art frequency domain reflectometer is employed as the line sweep testing technology in the SiteWizard™ MTM-427 to guarantee the highest resolution to pinpoint adjacent faults along the cable run. Keeping in mind the emerging test needs of inbuilding installations such as DAS and Small Cells measurements, The SiteWizard™ MTM-427 as a miniature portable Cable and Antenna Analyzer is the best match for the special nature of such missions.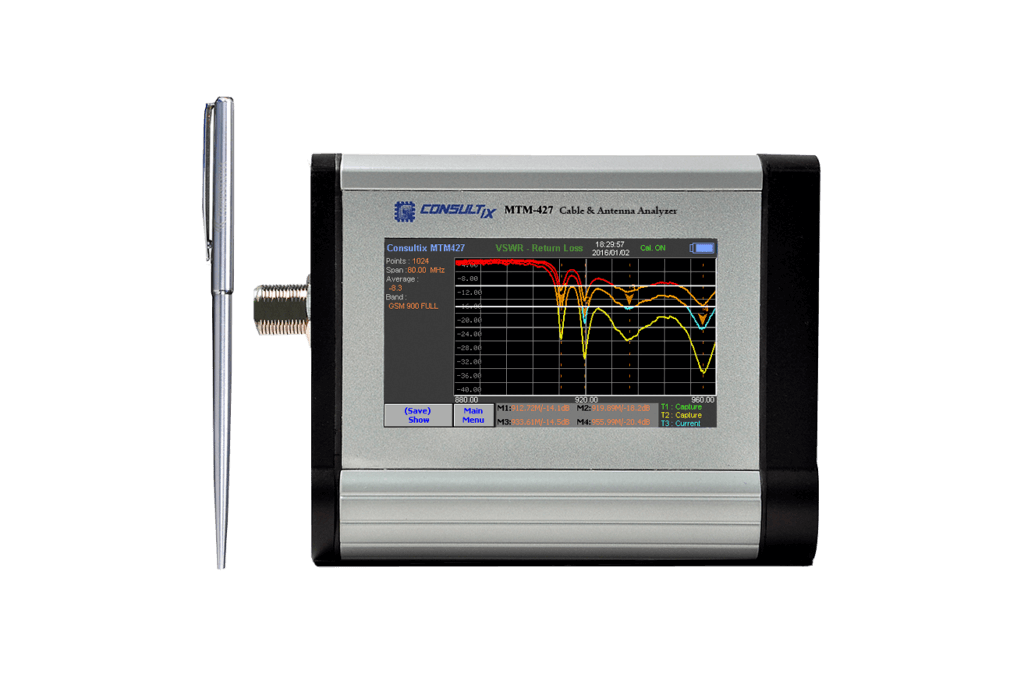 The SiteWizard™ MTM-427 family is Consultix's next generation of ultra-portable field test equipment, engineered for maximum convenience in the field without sacrificing precision and accuracy.
It's the first Cable and Antenna tester in its class to feature both quick and precise sweep testing along with a spectrum analyzer option all in a lightweight shock-protected unit.
SiteWizard™ MTM-427 Cable and Antenna Analyzer fulfills the specific requirements of installations and maintenance teams, eliminating the need for handling heavy, bulky and expensive testers.
The device provides a frequency range from 400 to 2700 MHZ which covers most of the wireless bands serving 2G (GSM), 3G (UMTS), 4G (LTE) as well as WIFI 2.4 GHz band.
The 4.3" Touch screen enables measurements at maximum ease and handiness with a myriad of UI features to sort, review and compare curves and readings.
Applications:
BTS Site installation, commissioning, and acceptance
BTS site maintenance
Distributed Antenna Systems validation (DAS sweep testing)
Small cell installations
Antenna certification
Cables and feeders certifications
Typical Users:
Network Rollout engineers
Cell site installation, commissioning and maintenance engineers
O&M (Operation & Maintenance) engineers
Implementation engineers
RF & RAN engineers
Field Engineers
Site Acceptance engineers
Telecom sub-contractors and service companies
Lightweight: 700gm (1.5 pounds)

Industrial Screen 4.3" Touchscreen
Channel Power Measurement Option

1 Second Calibration & Measurements

Internal & External Storage

Professional Reporting Software
| . | . |
| --- | --- |
| Frequency Range | 400 to 2700 MHz (Optional: 100 MHz to 3200 MHz) |
| Measurement Modes | VSWR, Return Loss, DTF & Cable Loss (Optional: Spectrum Analyzer) |
| VSWR Range | 1:65 |
| Return Loss Range | 0:60 dB |
| Cable Length | 0:1500 m |
| RF Protection | 30 dBm (33dBm peak) |
| Measurement Speed | 1 ms/datapoint |
| Accuracy | Directivity Corrected: 42 dB (Calibration kit Return loss) |
| Weight | 700 gm (1.5 lbs.) |
| Battery Operation | Up to 8 Hours (Operation Sweep Continuous with) |
Matti Jokinen
Country Director @ QROI Limited
Quite impressive how small and lightweight the SiteWizard™ MTM-427 is. Does the same as our traditional cable/antenna analyzers but so much smaller and easier to handle.